The Indian stock market can be divided into two stock exchanges: Bombay Stock Exchange (BSE) and National Stock Exchange (NSE India). Most of the Indian equity market takes place on these two stock exchanges. Both exchanges – BSE and NSE follow the same trading mechanism, trading hours, settlement process, etc.
National Stock Exchange
The National Stock Exchange is the world's fourth largest stock exchange in terms of transaction volumes. In terms of daily turnover, NSE is one of the biggest stock exchanges of India for Equity and derivative segment.
History
To bring transparency to the Indian capital market, a group of leading financial institutions established National Stock Exchange. Many leading financial institutions participated to set up National Stock Exchange.
The National Stock Exchange of India came into existence in the year 1992. In April 1993, National Stock Exchange was recognised as a stock exchange by SEBI and in 1994 it commenced operations with the launch of the wholesale debt market which shortly after followed by, the launch of the cash market segment. It was the first demutualised electronic exchange of India. National Stock Exchange made it possible for traders across the country to carry out trading of stocks with its fully automated screen based electronic trading system.
Milestones
Between 1994 and 2016 National Stock Exchange expanded lines of business and product offerings through the following key milestones.
YEAR
MILESTONES
1993
Recognised as stock exchange
1994
Launched the equity and wholesale debt market

Commenced electronic or screen-based trading

1995
Established an Investor Protection Fund Trust
1996
Created and administered a settlement fund

Launched NIFTY 50 Index, which remains our flagship index today

Commenced trading and settlement in dematerialised securities on our exchange

1998
Commenced NSE certification for "Financial Market certification program (NCFM) in India.
2000
Launch of index futures based on the NIFTY 50 index for trading

Listed index future on NIFTY 50 on the Singapore Exchange commenced internet trading

2001
Launched index options based on the NIFTY 50 index for trading

Launched single stock futures and options on listed securities

2002
Launched ETFs listings
2005
Launched NIFTY Bank index derivatives
2008
First in India to offer trading in currency futures.

Establishment of securities leading and borrowing scheme (SLBS)

Launched NOW platform for web-based trading

2009
Launched Mutual Fund Service System (MFSS)
2010
Launched NOW platform for mobile devices

Launched trading in currency options

2011
Commenced trading in index futures and options on global indices, namely the S&P 500 and Dow Jones Industrial average
2012
Commenced trading in index futures and options contracts on the FTSE 100 index

Launched SME-specific EMERGE platform for the listing and trading of securities of SMEs.

2013
Launched the New Debt Segment (NDS)
2014
Launched NMF-|| platform for mutual funds

Launched NBF || segment for interest for interest rate futures.

Launched trading on India VIX Index futures

commenced trading on NIFTY 50 (then known as CNX NIFTY) on the Osaka Exchange

2015
Entered into a memorandum of understanding to enhance the level of cooperation with the London Stock Exchange.

Renamed CNX NIFTY to NIFTY 50.

2016
Launched NIFTY 50 index futures trading on TAIFEX

Launched platform for sovereign gold bond issuance

Launched electronic book-building platform for private placement of debt securities
MARKETS
NSE India offers trading and investment in the following segments:
Trading Schedule
Trading on the equities segment takes place on Five days of the week (Monday to Friday). The market timings of the equities segment are as per shown in Image.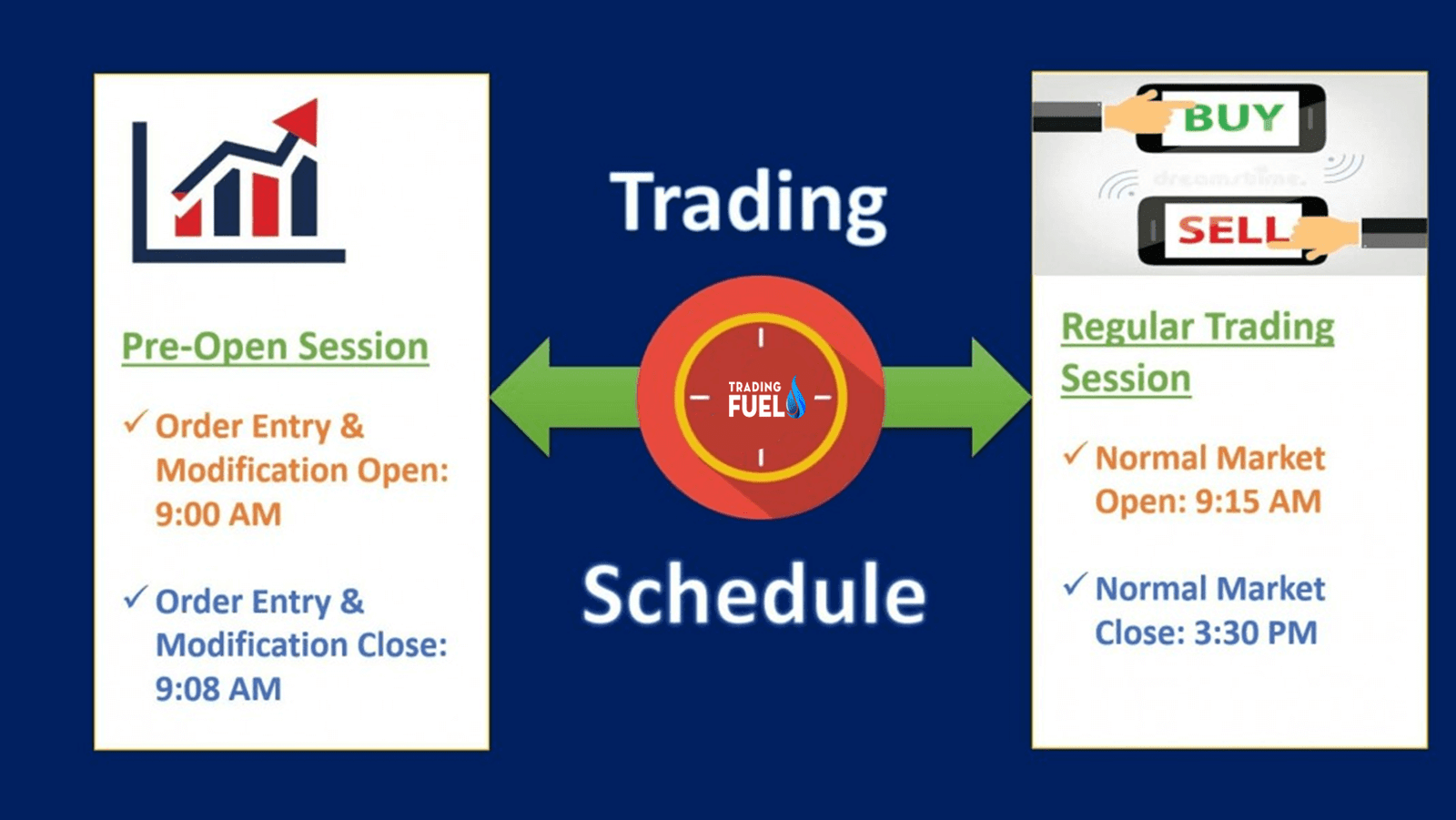 Service offered by National Stock Exchange
National Stock Exchange provides many trading and investment services.
There are approximately 5,000 companies listed on the National Stock Exchange that are actively traded.
Trading and investment in Equities, Indices, Initial Public Offerings, Mutual Funds, etc.
Trading and Investment in equity derivatives that includes global indices like Dow Jones, currency derivatives and interest rate futures.
Pre-Open Market
During this period, traders can put the buying and selling orders. The pre-market settles at 9:07 am and quotes are available after the settlement on the basis of buy and sell orders. You can check the prices of Nifty 50 stocks on NSE website.
Equity Stock
Trader can get the quote of the stock. The Nifty 50 stocks are listed under this segment. The users can see the 52-Week high and low of the stock. The user can also see the volume of the stock traded.
Index
Nifty is an index that is part of NSE. It Consists of 50 heavyweight stocks from 12 different sectors. Nifty is bifurcated into different market indices like nifty midcap 100, nifty small cap 100, nifty 100, etc.
Top 10 Gainers / Losers
National Stock Exchange also provides information about Top ten gainers and losers highlight those Nifty 50 stocks that rose and fell.
Most Active Securities
Most active securities are those stock that show a big change in the price of the stock. The most active stocks are those that show a significant change in stock price due to a surge in volume.
Advance and Declines
This segment on National Stock Exchange website shows the overall data of the stocks that rose and fell. To know the overall sentiment of the market, the user can visit the advance and declines segment.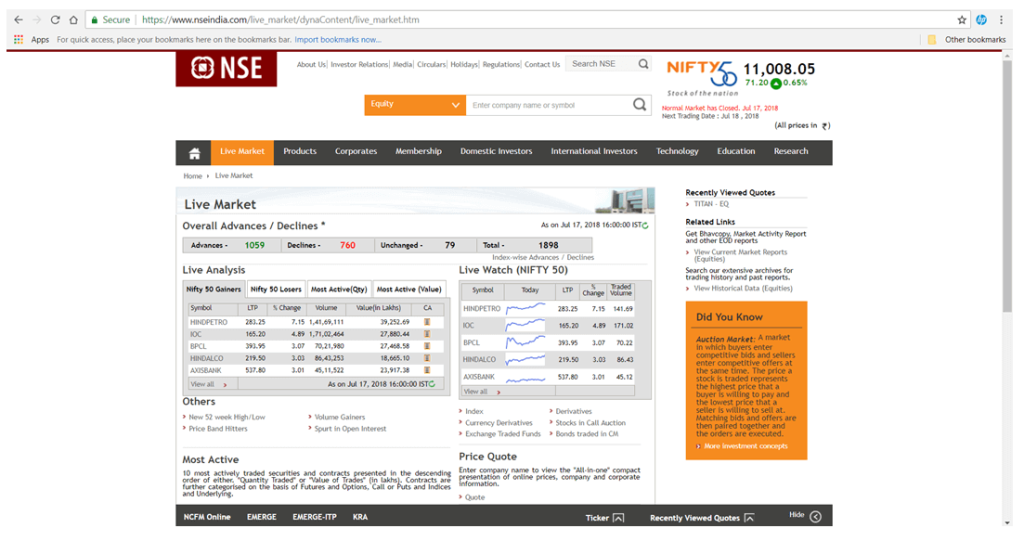 Volume Gainers
This section shows the single day volume comparison is drawn with the 1-Week and 2-Week average volumes. Total 25 stocks from part of this section.