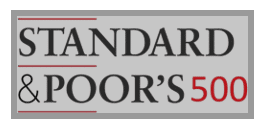 What is the S&P 500? S&P 500 is a stock market index tracking the stock performance of 500 large companies listed on exchanges in the United States. It is one of the most commonly followed equity indices. SPDR S&P 500 ETF Trust (SPY) is an exchange-traded fund launched and managed by State Street Global Advisors, Inc. The fund invests in public equity markets of the United States. It invests in stocks of companies operating across diversified sectors. The fund invests in growth and value stocks of large-cap companies. It seeks to track the performance of the S&P 500 Index, by using full replication technique.
TECHNICAL ANALYSIS
Fibonacci Retracement 25-week's levels (Daily chart)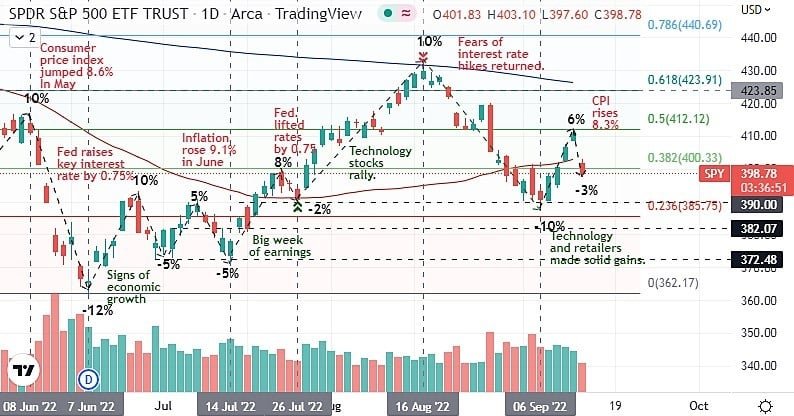 Key levels of support and resistance based on Fibonacci Retracement. (25 weeks' levels).
Price: $397.78 | $462.07 (25-weeks high) | $362.17 (25-weeks low)
$400.33 (First resistance at 38.20% ratio)
$402.85 SMA 50 Red line
$412.12 (Next resistance at 50% ratio)
$423.91 (Strong resistance at 61.80% ratio)
$385.75 (First support at 23.60% ratio)
Bollinger Bands, RSI, MACD (Daily chart)
From June 8, 2022, to June 17, 2022, the price plunged 12% to
$362.17 (a 25-week low) after the consumer price index rose 8.6% in May and the U.S. Federal Reserve raised the key interest rate by 0.75%. From June 18, 2022, to June 28, 2022, the share price rose 10% driven by economic signals, but fell by 5% as inflation rose 9.1% in June. From July 14, 2022, to July 22, 2022, the share price rose 8%, getting resistance at
$400.33 (current resistance at 38.20% ratio), driven by a big earnings week and, fell 2% after the US Fed raised rates again by 0.75%, making support at the 50 SMA (red line). From July
26 to August 16, 2022, the share price rose again by 10%, driven by the rally in tech stocks, gaining resistance at the 200 SMA (blue line). From August 16 to September 6, 2022, the stock price plunged 10% as fears of interest rate hikes returned. Recently, the S&P 500 declined by 10% due to interest rate hike fears and recovered by 6%, crossing the 50 SMA upwards, achieving resistance at $412.12 (current resistance at the 50% ratio).
Due to the CPI jumping 8.3% in August, the S&P 500 fell 3% this week. The downtrend correction is continuing, according to the technical indications. The stock price may drop 2% to $390.00 or even lower to retest the 25-week low if it cannot be supported at the current level and volatility increases.