Groww Review: Groww is a Bangalore-based brokerage firm.
It offers online flat-fee discount brokerage services so as to invest in equities, IPOs, and direct mutual funds.
It is a brand name for Nextbillion Technology Private Limited, which is a SEBI registered stockbroker and also a member of NSE as well as BSE.
What is Groww?
Groww was established in 2016 and started as a direct mutual fund investment platform.
In the mid-year of 2020, it expanded and began offering equity trading.
The company, along with that, also offers the following as an investment option for its customers: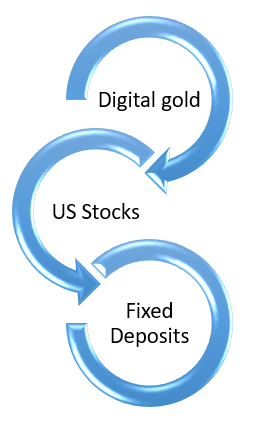 Don't forget to check: 5 The Best Mutual Fund Apps in India
Key highlights of Groww:
The main highlights of the Groww broker firm are as follows:
The maximum brokerage charged per trade is Rs. 20.
Zero commission on direct mutual funds.
It also provides investment in US stocks, digital gold, and corporate FDs.
It has a feature to switch from a regular mutual fund to a direct mutual fund.
It also has customer awareness through educative as well as informative blogs and eBooks.
Instant and paperless online account opening.
Groww Charges:
The brokerage plan for Groww is as follows:
| | |
| --- | --- |
| Trading Segment | Brokerage Charges |
| Equity Delivery | RS. 20 per trade (or 0.05%, whichever is lower) |
| Equity Intraday | RS. 20 per trade (or 0.05%, whichever is lower) |
| Equity F&O | RS. 20 per trade |
Groww Review
Here, you are also required to pay for other transactions as well as regulatory charges, Demat charges, and other charges in addition to the minimal brokerage.
Other charges that Groww levies are as follows:
Account Square Off Charges: Rs. 50.
Groww Online Account Opening:
The company offers online account openings to its members.
This process is simple, instantaneous, and paperless.
Groww's account opening is free and also has zero maintenance charges.
It is an online broker with no branches.
Groww Trading Software:
Groww provides its customers with the option to trade via the web and mobile.
A trader at Groww can transact seamlessly by switching between the Groww App and the website.
The company does not have an installable trading terminal on your personal desktop.
It will also not offer call and trade services.
The company initially started as a mutual fund investment platform, but in June 2020, it launched equity trading.
The company is also working on new products such as US stocks, digital gold, and fixed deposits to be added to the web application.
The following are the two trading programs provided by Groww: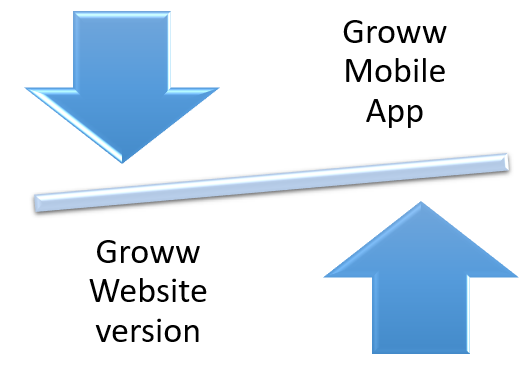 Also Check: How to Open a Demat Account in SBI?
Groww Mobile App:
It will allow you to trade at any time from anywhere.
It is also offered free of charge to its customers to invest in equity and mutual funds.
It is a very safe and secure application with a host of features, such as the following: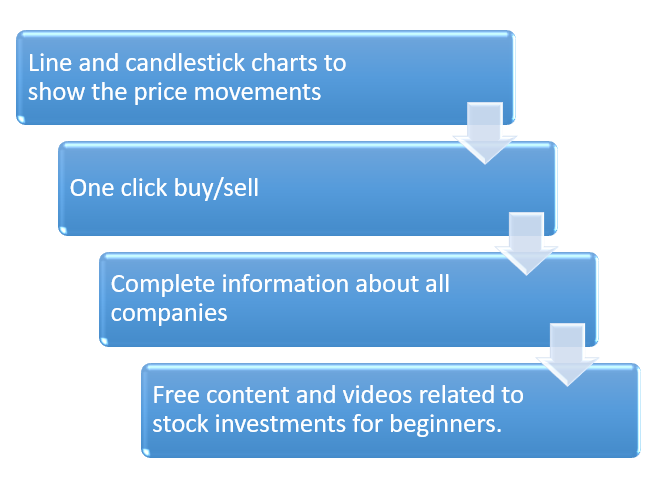 Groww Website Version:
The Groww website platform is an online, web-based trading platform.
It provides customers with an enriching online trading experience.
This platform will allow its clients to explore the following: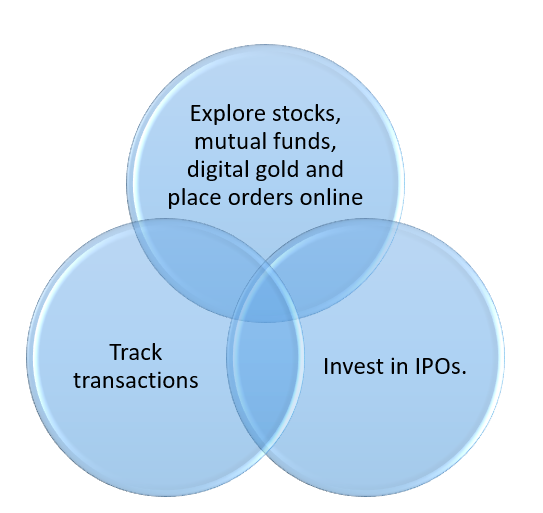 The website also has resources, eBooks, and blogs that will provide educational and general information on the stock markets.
Must Know: Top 7 Best Stock Market App
Pros and Cons of Groww:
The main advantages of Groww are as follows:
A simple pricing model
Direct mutual fund platform that will help you earn an extra 1.5% returns
Zero account opening fee
Zero Demat AMC charges
Online IPO application
Trading in SME shares is available.
The option to invest online in digital gold
Instant, paperless account opening.
The main disadvantages of Groww are as follows:
Does not provide stock tips, research reports, or recommendations.
Do not offer to invest in SME shares, only trading is permitted.
Advanced order types such as BO, CO, AMO, and GTT are not available.
Limited investment options with no other options to trade in commodity and currency segment
No call and trade services
No branch support.
No margin trading facility
No margin against shares.
Trailing stop loss orders are not available here.
It does not offer NRI trading.
SME IPOs are also not available.
Conclusion:
We hope the above blog has given you an idea of the Groww reviews.
About Us:
Trading Fuel is our blog website where we give you know-how about finance, economics, the stock market, and intraday trading. Stay tuned with us for more such blogs.
Frequently Asked Questions (FAQs)